Summer Lip Routine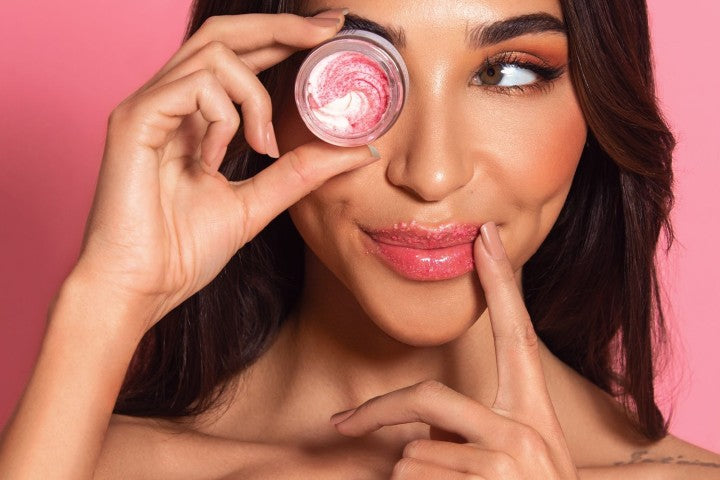 Let's be real, your lips go through a lot each day. From eating and drinking, to dry air and hot sun - your lips endure the worst of the elements. The effects of these day-to-day stressors are not exactly ideal…cracked, flaky, dry lips. Ugh!
With all this exposure and incorrect care, you can see how dry lips can drastically age your appearance and hurt your confidence.
Lip care should be a part of your beauty routine – year-round, but it's especially important to show your lips a little TLC during the summer months. The warmer weather, harsh sun rays, and increased travel take a toll on your lip health.
Don't worry! Your healthy, kissable lips will be back in no time. Taking care of your lips is super simple and cost effective. Just follow these quick steps to maintain your perfect pout all year long!
STEP 1: EXFOLIATE
You exfoliate your face to keep it smooth and glowy, right? Well, your lips are no exception. Dehydrated lips usually come with an extra layer of dead skin cells – yuck! Exfoliating your lips on a weekly basis immediately eliminates the dry, flaking skin that builds up due to sun exposure and heat – according to experts at Adore Beauty. Using exfoliating ingredients (like sugar, coffee, or cinnamon) on your lips will wash away dead skin, make them super soft, and reduce fine lines. Hello gorgeous lips!
How To: Choose an exfoliating product or ingredient that will scrub away dry skin and roughness. Gently scrub lips with your finger or a Q-tip for 20 to 30 seconds. Wash off exfoliant with warm water and repeat the process 2-3 times per week. Don't overdo it! Over-exfoliation can make the skin on your lips super sensitive.
Product pick: GLOAT Sexy Soft Lip Scrub.
STEP 2: MOISTURIZE
Eliminating the dead skin is certainly a good place to start – but you still need to condition your lips to keep them looking and feeling healthy and luscious. This is especially important during the summer months! According to experts at the Ottawa Skin Clinic, the heat of summer often makes the lips "intensely chapped and can even crack and bleed if you ignore or avoid applying hydration to them." Luckily, there are several ingredients commonly found in lip balms that work wonders to moisturize and soothe chapped lips – like shea butter, bees wax, and coconut oil. The bottom line is – if you want your lips to look and feel silky smooth, they need extra moisture.
How To: Use a nourishing lip balm to condition your lips when you wake up and before you go to bed for best results. Just be sure to avoid the skin on your face – some oils commonly found in lip balms are known to cause breakouts!
Product pick: Unicorn Lip Plumping Balm.
STEP 3: PROTECT
If you've ever suffered through days of sun burned lips, you know exactly how painful and uncomfortable it can be. Just like the rest of your skin, your lips are also affected by the sun's rays and need to be protected from UV damage. In fact, the lip is a common area for skin cancer because many people forget to apply SPF. During the summer, your lips are exposed to more UV light than normal – so it's critical that you don't skip this step! Using a lip balm with an SPF of 30+ daily will ensure that you are nourishing your lips, keeping them flake-free, and protecting from cancer!
How To: Choose a lip balm with an SPF of at least 30 (be sure to check the label!) Apply balm to lips before heading out for the day. Things like eating, drinking, and talking can wipe away your extra layer of protection. Be sure to reapply SPF throughout the day!
MORE HOT TIPS
Drink Plenty of Water
A super simple way to keep your lips soft and supple is to make sure you're drinking enough water throughout the day. The summer sun and warm weather can be super dehydrating – so your lips need a little more moisture to stay chap-free. According to the experts, drinking about a half a gallon of water daily will ensure that you (and your lips) are hydrated and ready for anything.
Supplement with Vitamin E
Vitamin E has an outstanding reputation in the skin care industry. This is mainly due to the fact that Vitamin E acts as an antioxidant that fights against skin cell damage – yes please!  This nutrient is also known to moisturize the skin, prevent skin cancer, and reduce the appearance of fine lines and wrinkles. Plus, it's super easy to work into your daily routine. Adding this supplement to your vitamin cabinet will give your lips an extra layer of protection from the sun's damaging rays.
Try a Citrus Remedy
Want your natural pink pout back? Lemon juice is a common remedy for various beauty challenges and there are several benefits for your lips too! Lemon is a natural bleach and skin toner. This means that using fresh lemon juice on your lips will help them appear brighter and fuller almost instantly. Just rub a few drops of lemon juice on your lips – you'll be amazed by your renewed color and plump!
Avoid Harmful Habits
Licking your lips seems to instantly relieve chapped lips, but it's actually doing more harm than good. Over time, digestive enzymes in your saliva work to break down the protective barrier of skin on your lips. With no protection, your lips become super sensitive to the sun, climate, air quality…everything. To combat this habit, throw an extra stick of lip balm in your pocket and use it when you get the itch to lick your lips!
To get the smoothest summer lips this season, make sure you follow the steps above. It doesn't take much time or a big budget – just the commitment to beautiful summer lips.
We also recommend investing in our GLOAT: Greatest Lips Of All Time Bundle for a fabulous pout all-year round.
Share
---