Truly's New Anti-Aging Body Bundle Has Arrived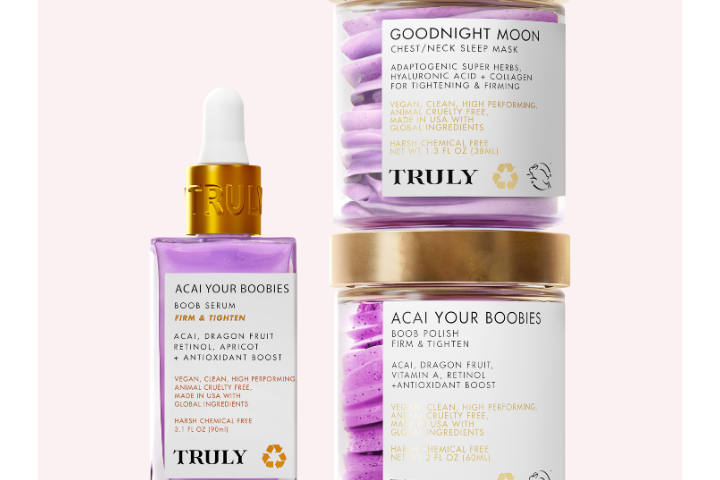 Your smoothest, springiest skin is only three steps away...
Enter: Truly's Anti-Aging Body Bundle, a 3-step youth-restoring skincare routine designed to brighten, tighten, and erase fine lines and wrinkles through powerful active ingredients such as retinol, hyaluronic acid, and vegan collagen.
We developed this one-of-a-kind line to treat dryness, dullness, and premature signs of aging on those often neglected areas — your neck, chest, and boobs.
Here's everything you need to know about this hot new line.
WHAT'S INSIDE THE ANTI-AGING BODY BUNDLE?
Truly Beauty's Anti-Aging Body Bundle is one of our latest product drops. It features three neck and boob-targeted skincare products made with only the best results-driven ingredients available. Vegan and cruelty-free, these formulations can help restore elasticity, enhance collagen production, and restore youth.
Included in the bundle:
Acai

Your

Boobies

Polish

Acai

Your

Boobies

Serum
Goodnight Moon Neck & Chest Sleep Mask
Used together, this winning combination of treatments can visibly improve skin tone, texture, and significantly reduce the appearance of fine lines and wrinkles. All three formulas offer firming and hydrating effects for your dewiest, most youthful-looking skin.
HOW DOES IT WORK?
There are three steps involved in this bundle: exfoliation, treatment, and hydration.
Acai Polish is an invigorating boob scrub that sloughs away dead skin cells, revealing fresh, bouncy skin underneath. Besides smoothing out roughness, this polish preps your skin for improved product penetration.
Acai Serum is a firming boob treatment that absorbs swiftly into the skin, nourishing it with a slew of high-performing actives. It can help treat everything from hyperpigmentation to acne, sagging to fine lines and wrinkles.
Goodnight Moon Mask is a hydrating neck and chest mask designed to rejuvenate skin while you sleep. This formula improves skin elasticity, provides visible lift, and helps minimize the appearance of stretch marks, cellulite, and creases.
While all three beauty products work effectively when used individually, they work the best when used together on a daily basis.
The Magic is All in the Ingredients
Acai Your Boobies Polish + Serum are high in antioxidants, acai, retinol, and dragon fruit that leave skin feeling and looking significantly smoother, brighter, and firmer.
Retinol is a powerful anti-aging ingredient that's been proven to speed cell turnover, boost collagen production, and ultimately fade fine lines, wrinkles, and discoloration. Acai is an antioxidant-rich, free radical-fighting power fruit that protects skin, delays signs of aging, and replenishes lost moisture. These formulas also contain soothing aloe to quell inflammation and ultra-nourishing vitamin E to keep skin strong and supple.
Goodnight Moon Neck & Chest Mask is loaded with hydrating hyaluronic acid, plumping vegetable collagen, and nourishing shea butter for long-lasting dewy hydration.
Hyaluronic acid is a humectant commonly found in face creams, body lotions, serums, and even some cleansers. It's a holy grail ingredient for those with dry skin as it can deeply hydrate the skin and quickly diminish dryness. Vegan collagen helps restore elasticity while plumping out fine lines and stretch marks. This formula also contains shea butter and glycerin, an emollient and humectant that help promote long-lasting hydration.
A Clinically Backed Treatment
Acai Serum and Polish have both been clinically proven to firm, lift, and improve skin tone and texture in four weeks of daily use.
In 2021, our Acai + Buns of Glowry lines both underwent clinical trials to evaluate their effectiveness when it came to improving skin on the butt and boobs.
Participants of the study noted significant improvements in skin tone and texture, while sighting visible lift and increased firmness in those areas after using the products on a daily basis over the period of four weeks.
HOW TO USE IT
Step #1: Exfoliate with Acai Polish
In the shower, scoop out a small amount of polish and mix it with a little water to create a nice lather. Massage into your chest, let it sit for a minute, and rinse thoroughly with warm water.
Step #2: Apply Acai Serum
Apply several drops of serum to clean, dry skin, massaging it into your chest and breasts. Let it fully absorb before getting dressed.
Step #3: Hydrate + Repair with Goodnight Moon Mask
As the final step of your night-time skincare routine, apply a thin layer of the mask to your chest/neck and anywhere else showing signs of aging. Please note: this is a no-rinse formula, so leave it on the skin.
DOES IT WORK FOR ALL SKIN TYPES?
All skin types can benefit from using Truly's Anti-Aging Body Bundle, especially mature skin. Sensitive skin types should be the most careful due to the formula's retinol content. Retinol can be irritating to some skin types (particularly if it's your first time using it), so remember to ease into the routine and avoid over-applying any of the products.
If you're in your 30s or already seeing visible signs of aging, there's no better time to start this routine than now. It can be used both as a preventative or a treatment to deliver your smoothest, most radiant skin.
BEST SKINCARE PRODUCTS TO PAIR IT WITH
If you want to enhance the results even more, try pairing this bundle with Truly's Acai Your Boobies Body Butter. It's essentially a body cream/body moisturizer designed especially for the breasts to smooth out fine lines, soften stretch marks, and visibly improve skin tone.
Apply this butter after your serum to seal in hydration. You can apply this boob butter on the days when you don't wear your mask to heal, hydrate, and rejuvenate overnight.
If you're dealing with dry, cracked nipples, try pairing this routine with Truly's Acai Your Nippies Butter. Unlike all other products in the Acai line, this one's retinol-free and safe for new and nursing mothers.
Make sure you pick up your Anti-Aging Body Bundle today to pave the way to a smoother, perkier pair sans lines and blemishes. It features formulas that have been clinically proven to improve skin tone, texture, and firmness. And results can be seen in less than four weeks!
You can find all our products on our website, as well as on Amazon, Ulta Beauty, and Sephora EU.
Share
---