We Tried Using Vaseline in Our Skincare Routine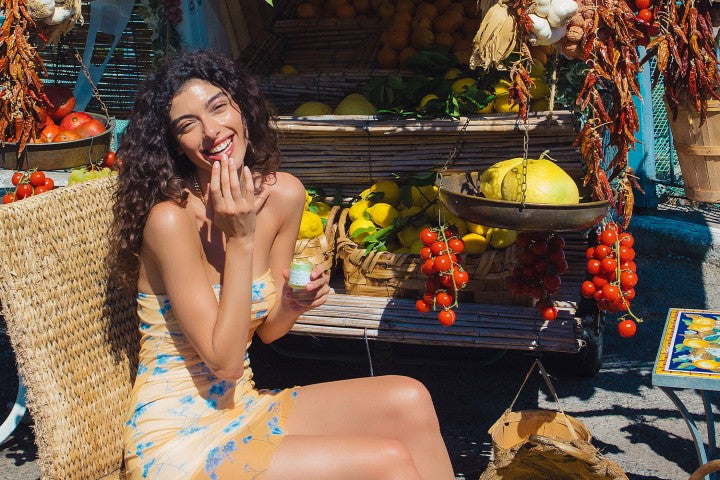 There's very little this 150-year-old skincare formula can't do. 
It's a fab multitasking beauty product that definitely deserves a place in your skincare routine.
To show you just how versatile it is, here are some fun and effective ways you can use Vaseline in your beauty regimen – and enhance the products you're already using.
Prep Your Skin for Perfume
Hydrated skin holds scents better than dry skin. As an occlusive moisturizer, Vaseline seals moisture into the skin and locks scent in, too. To make your fragrance last longer, rub some Vaseline on your pulse points before you spritz. In case you didn't know, pulse points are the warm areas of your body like the wrists, inner elbows, back of the knees, and neck.
Pair it with Truly Unicorn Fruit Eau De Parfum for hours of fruity, feminine scent.
Repair Dry Cuticles
Since petroleum jelly seals in moisture, rub a small amount of it on dry and cracked cuticles to help hydrate and repair them. It'll quickly diminish dryness and leave cuticle skin feeling soft and soothed. DIY mani or pedi? Make this healing skin hack the last step of your routine. 
Make Your Hair Mask Work Harder
Did you know you can multiply the effects of your favorite moisturizing hair mask by applying Vaseline over it? Vaseline's hydrating and protective properties can help to lock in moisture from the treatment.
Pair it with Truly Unicorn Hair Repair Mask to triple its hair-repairing effects. Leave it on for at least 30 minutes to let it work its wonders. Your tresses will feel super soft once you've rinsed and dried. Use it anytime your hair is in need of intense hydration. 
On the subject of hair, you can also smooth a thin layer of Vaseline over your flyaways and split ends to keep your mane looking prepped and polished.
Diminish Dryness
"Vaseline is incredibly effective at softening severely cracked, dry, and inflamed areas. It also works by preventing loss of water in the skin, which allows natural oils to nourish and repair," says Dermatologist Dendy Engelman, MD. 
Dab it on dry areas of your skin. It'll help soothe dryness and irritation. Best of all, you can apply it pretty much anywhere on your body – your elbows, cracked heels, or lips.
And because Vaseline works by locking in moisture that's already present in the skin, it works even better when layered with a nourishing moisturizer. For those with dry skin and eczema, try mixing Vaseline with moisturizing cream as your daily lotion.
Pair it with Truly Pineapple Haze Sensitive Skin Body Balm to boost its hydrating and skin-repairing effects.
Level Up Your Cosmetics
Another fun use for this cult skincare product: mix a small amount with your favorite loose pigments to turn them into cream eye shadow, tinted lip balm, or blush. Vaseline is safe to use around the eye areas, so you won't have to worry about getting an infection. From eye makeup to highlighter, you can quite literally customize your cosmetics with just a dab of Vaseline.
You can also apply a tiny amount on your eyelashes as a primer for mascara to give the appearance of longer, thicker-looking lashes. And make it last a little longer!
Achieve a Flawless Fake Tan
Prevent streaks and stains by rubbing a bit of Vaseline on dry areas and patches prior to applying self-tanner. Problem areas include elbows, ankles, and wrists – focus on these areas to stop uneven absorption into the skin. The Vaseline will act as a skin barrier, preventing streaks, splotches, and stains. The end result? Sun-kissed, glowing skin from head to toe!
Pair it with Truly Hotter in Person Bronze and Blur Tanning Cream. 
Keep Your Razors Like New
To keep your razor performing its best, smooth a thin layer of Vaseline onto the blades between uses. Just make sure the blades are completely dry first to prevent rust. 
Pair it with Truly Life Shaver Starter Razor to keep this baby thriving.
Boost Your Beauty Routine
Humectants and occlusives work beautifully together. While humectants draw in water, occlusives act as a barrier to hold that moisture in. Together, these two deliver intense hydration to dry skin and boost the effectiveness of hydrating skincare products. The process is known as slugging – sealing your skin with an occlusive agent. It's one of TikTok's latest beauty trends.
Some good humectants to combine Vaseline with include hyaluronic acid and glycerin. Other examples of occlusive include mineral oil, shea butter, and petrolatum. 
Pair it with Truly Cream Skin Face Moisturizer for hours of hydration.
WHAT SKIN IS VASELINE BEST FOR?
Vaseline is an excellent skincare product known for locking in moisture. It's ideal for those with dry skin or aging skin looking as this product is brimming with hydrating and anti-aging benefits. It may even be helpful to those suffering with skin conditions such as eczema and rosacea thanks to its anti-inflammatory effects. Allergic reactions to Vaseline are very rare. 
Generally, it's considered a safe and effective product with a slew of skincare benefits. Then again, this is not a new product we're talking about. Vaseline has been around for over 100 years. So, it's pretty safe to say ... it's safe.
WHAT SKIN TYPES SHOULD AVOID VASELINE?
While Vaseline helps seal moisture into the skin, the American Academy of Dermatology (AAD) warns that those with acne-prone skin may increase breakouts after using this product. 
Vaseline is noncomedogenic, which means it won't clog pores. Still, those with acne-prone or oily skin may not tolerate the product very well, and see an increase in pimples after use. 
Vaseline is a household product for a reason. Besides serving as an all-over skin hydrator, it can help other beauty products you're using work even harder. From extending the lifespan of your fragrance to boosting your fave hair mask's moisturizing effects, Vaseline can do all kinds of cool things. 
Without a doubt, this product deserves a place in your beauty cabinet. It's the ultimate multitasking beauty product that's safe, convenient, and extremely effective!
Share
---