Zendaya Skincare Routine and Tips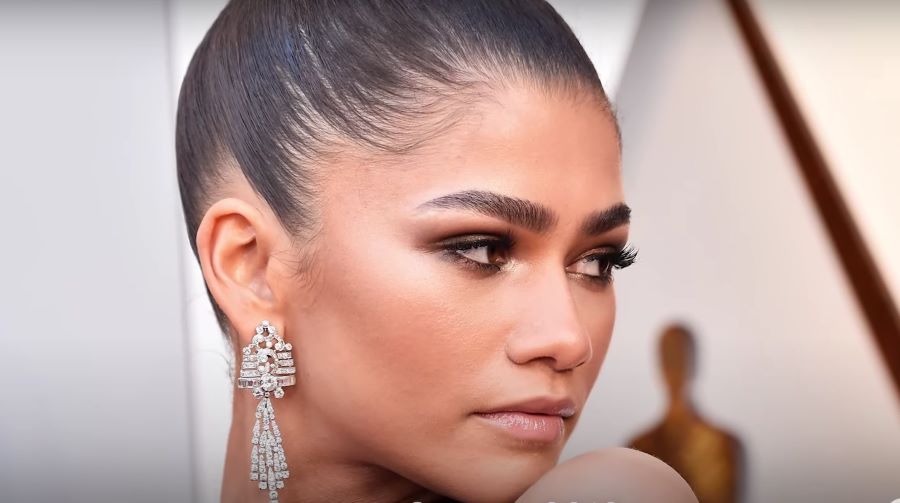 She may be one of Gen Z's biggest stars, but Zendaya's skincare routine is remarkably simple. The 26-year-old actress and singer believes in the less is more approach when it comes to skincare. 
While she may appear to have flawless skin, the Euphoria actress admits that her skin isn't always well-behaved. From hormonal breakouts to back acne, Zendaya deals with the same skin complaints we do. 
Ahead, the Zendaya skincare routine revealed and how she keeps her skin looking its best while tackling acne. 
Zendaya Skincare Routine is Only 3 Steps
It's always refreshing to hear about celebrities that don't spend thousands on fancy creams and serums. If you've been wondering what skin care does Zendaya use and how does she keep her skin looking so glowy, you'll be happy to hear that her nighttime regimen only consists of three products. Ahead, her three steps for clear, glowing skin.
Step 1: African Black Soap 
What face wash does Zendaya use? Interestingly, she does not use face wash. She switches between an African black soap cleansing bar and wipes to get rid of the day's dirt and makeup. Zendaya skincare tip number one: Always remove your makeup before you go to bed.
African black soap is a next-level cleanser that originates from West Africa. It's packed with bacteria-fighting oils that help to deeply cleanse and nourish the skin, thus preventing clogged pores and blemishes. It also gently exfoliates, helping to slough away the buildup of dead skin cells and aid in cell turnover–clarifying skin and improving skin tone.
Get in on the acne-fighting action of Zendaya's holy grail cleanser with Truly's 24K Gold Black Soap Impurity Cleanser. It's made up of African black soap, 24k gold, salicylic acid, and charcoal to absorb dirt and grime and combat breakouts.


Step 2: Rose Petal Witch Hazel Toner
The next step in the Zendaya skincare routine: toner. Toner is another essential step in the cleansing process that removes dirt, bacteria, and makeup. It can give your skin a deep clean while offering hydration for a smooth, soft finish.
"With cotton pads, I apply rose water witch hazel as a toner. It's really refreshing and has a nice, soft scent," Zendaya said of her go-to skin soothing buy. 
If you're looking for a product that hydrates, resurfaces, and treats acne scars and hyperpigmentation, look no further than Truly's Jelly Booster Pigment Booster Potion. An advanced formula of witch hazel and pomegranate extract to spur skin cell regeneration and improve the appearance of dark spots and acne scars.
Step 3: Vitamin E Oil
The final step in the Zendaya skincare routine: vitamin E oil. She smooths it on after cleansing and toning to make her skin look and feel fresh, soft, and glowing. Plus, it's a winner for combating dry, rough skin.
With its moisturizing properties, vitamin E locks in moisture for hours of Zendaya-like dewiness. It's also a powerful antioxidant that protects the skin from damage caused by free radicals, keeping your skin bright and youthful. Some studies suggest that vitamin E may help in reducing the appearance of acne scars and hyperpigmentation.
Get the Zendaya look with Truly's Glazed Donut Facial Serum. It's formulated with coconut, passion fruit, and vitamin E to drench skin in lasting moisture while fading discoloration and softening fine lines. It's fragrance-free, non-greasy, and simply melts into skin for long-lasting luminosity. 
Zendaya Skincare Tips
While Zendaya's nighttime skincare routine is unbelievably simple, she does have a few tips and rituals she follows to keep her complexion looking clear and radiant.
She Never Skips Moisturizer
Zendaya really can't live without moisturizer–to the extent that she feels like her face "would just crack in half" without it. In addition to using vitamin E oil daily, she uses an oil-free moisturizer with green tea extract and aloe vera to keep her skin hydrated. 
She Always Washes Off Makeup Before Bed
An important Zendaya skin care rule: never sleep with makeup on. The problem with wearing makeup to bed is it clogs your pores and can contribute to breakouts. Honestly, it's just easier to wash it all off before getting under the covers.
SPF is Non Negotiable
Zendaya never goes a day without slathering on sunscreen. She also uses moisturizers that contain SPF for extra protection–plus they serve as a great primer under makeup. 
Since UV exposure is one of the leading causes of premature signs of aging, applying SPF is a small yet effective step to keep skin young and bright. Just make sure you apply it daily, every two hours.
She Combats Breakouts with Tea Tree Oil
Does Zendaya get pimples? Sure she does, and she's been very open about it. But she's got a pretty smart way of dealing with them. In addition to following the basics in her daily routine (cleanser, toner, moisturizer), she uses tea tree oil for breakouts.
Tea tree oil is effective against breakouts due to its natural antibacterial and anti-inflammatory properties. Its main active component, terpinen-4-ol, combats acne-causing bacteria (Propionibacterium acnes) while reducing redness and swelling. Tea tree oil also helps regulate excess oil production, preventing clogged pores. However, it should be used cautiously as undiluted application can cause skin irritation. 
She Treats Herself to Evening Facials 
While the Zendaya skincare routine is typically simple and straightforward, the actress does occasionally like to indulge in a more extravagant pre bed time skincare regimen. 
When she has the time, she likes to indulge in a little facial before bed. Alongside cleansing and toning, Zendaya likes to add a few extra steps like a spray, sheet mask, clay mask, and serums. It's a self care ritual she likes to find time for.
Get Zendaya's Look With these Skincare Sets
Zendaya's skincare routine focuses on cleansing the pores and intensely hydrating without irritating the skin. She favors gentle, sensitive skin friendly formulas enriched with antioxidants and anti-inflammatory ingredients. Want to get Zendaya's glistening skin? Here are the sets to stock up on!
Glazed Donut Skin Set
A 2-step routine that promises dewy, healthy, highly nourished skin. It features a facial serum and cream infused with coconut, passion fruit, and vitamin E for skin that's soft, smooth, and gleaming. 
Glass Skin Set
Blur pores, clarify blemishes, and get a radiant glow in just two easy steps. The Glass Skin Set includes a 2-in-1 cleansing balm and makeup remover plus a facial serum enriched with jojoba oil, niacinamide, and aloe. Together, they help to remove impurities, refine pores, and leave skin plumped and dewy–just like Zendaya!
Honey Buns Set
Drench your entire body in dewy hydration with the ultra-indulgent Honey Buns Set. A tightening body mask and serum made with agave nectar, sea buckthorn fruit oil, and vitamin E to tighten and firm your body while softening fine lines over time. You'll feel sensationally smooth from the very first use. 
VIP Collection
Pamper yourself with this bundle of Truly's best. Inside you'll find 11 full-size bestsellers and 2 golden accessories that treat everything from body acne to hyperpigmentation, split ends and chapped lips. It's the ultimate self care experience. FREE Truly Signature Travel Trunk worth $250 included. Go on, treat yourself!
Ready to try the Zendaya skincare routine? Stock up on the skincare essentials above and treat yourself to a self-care experience you won't forget while looking forward to your glowiest skin ever.
Image sources:
Entertainment Tonight YouTube
E! News YouTube
Elle UK YouTube
Share
---