What People are Buying at Truly Beauty Right Now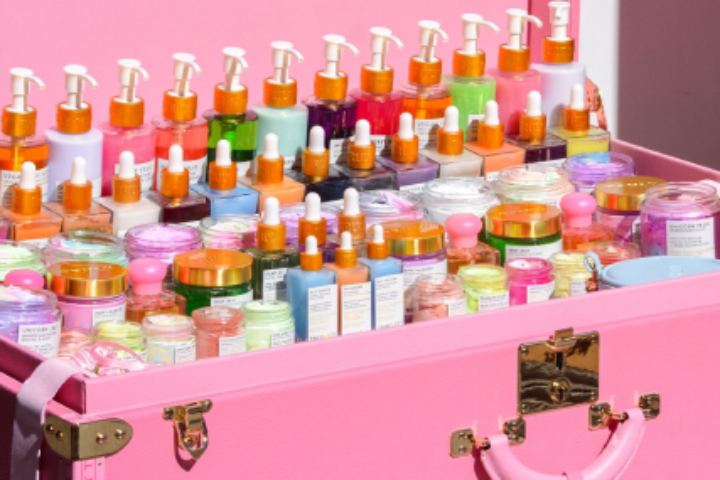 Wondering what real people are buying at Truly Beauty right now?
Here's a list of the hottest beauty products literally flying off the shelves! Get them soon before they go OOS!
FYI: all our products are clean, cruelty-free, & 100% vegan.
Unicorn Fruit Body Butter
It first found fame on TikTok after receiving millions of likes and shares. Unicorn Fruit Body Butter is a rich and conditioning moisturizer made with shea butter, rosewater, and vegan collagen to firm, smooth, and plump out the top layer of skin. Besides being deliciously hydrating, this formula smells as sweet as a candy store. No wonder it's a bestseller!
Buns of Glowry Smoothing Butt Polish
Clinically proven to lift, firm, and smooth in four weeks, Buns of Glowry Polish is a gentle yet invigorating exfoliant made especially for your butt. While wheat protein and retinol smooth out lines, lift, and fill in dimples, vitamin E and watermelon lend their hydrating superpowers. People have been going wild for it on social media. And the hype continues!
P.S. we have a butt serum and butter from the same line! Aka, a triple threat for your booty blues. 
Black Jelly Blemish Treatment Body Serum
A lightweight, flash-absorbing body serum that harnesses the antimicrobial powers of tea tree oil, witch hazel, and black charcoal to reduce inflammation in active breakouts while healing acne scars. Add this zit-zapping miracle to your skincare routine to kiss blemishes goodbye for good. 
Acai Your Boobies Serum 
A silky and regenerative serum formulated with retinol, dragon fruit, and antioxidant-rich acai extract to moisturize and assist in cell regeneration to visibly perk up and firm the skin on your chest. This is another one of our skincare products that's been clinically proven to show noticeable results in four weeks.
Moonlit Shimmer Oil
Get a customizable, dewy glow whenever you feel like it with this sparkling body oil. Formulated with a blend of brightening chai spices, soothing aloe, and luminosity-boosting turmeric, this body shimmer oil ticks all the boxes of a high end shimmer -- at a third of the price. Plus, it's vanilla-scented to leave you smelling sweet and fresh.
Apply it on your cheekbones, cupid's bow, cleavage, or thighs. This champagne gold shimmer oil offers a radiant glow on the go.
Super Fierce Pre-Shave Serum
We just released our Powerpuff Girls range of self-care products, and our followers CANNOT get enough! Join the craze?
This power shine pre-shave serum is formulated with ultra-nourishing marula oil, brightening strawberry, and anti-inflammatory squalene to help hydrate, soften hair follicles, boost glow, and secure an effortless razor glide. Thanks to the high amount of vitamin C in strawberries, this formula can also fade stubborn dark spots + discoloration.
Cooka Oil + Concentrate
Wellness for your woman parts...in a bottle. Make that two, actually.
Cooka Oil and Concentrate are the perfect pair to soften coarse pubic hair, alleviate ingrowns and leave the skin soft and supple. Made with a blend of natural antimicrobials, these two bikini line must-haves can soothe even your most sensitive skin. Whether you're bare or bushy, this duo helps all.
Coco Cloud Shaving Butter
Shaving just got sweeter -- literally.
For a long time, shaving has been one of those tedious tasks we know we should do, but don't actually want to. That was until Truly dropped its slew of shaving products designed to elevate the shaving experience.
One of those products (and the oldest for that matter!), is Coco Cloud Luxury Shave Butter. Buttery, rich, and whipped, this shave butter softens and soaks into the skin to combat ingrowns and razor burn and leave you with the ultra-close shave of your dreams. Plus, it smells sensational!
Moon Rocks Body Scrub
A lightly whipped sugar-based scrub formulated with a hydrating base of 100% organic coconut oil, brightening lavender, and protective vitamin E to buff and brighten dull, dry skin. It's perfect for prepping skin for self-tan or simply to smooth out uneven skin texture. 
Happy Hairless Shave Butter
Another one of our shaving specials. Happy Hairless Shave Butter is a whipped, rich shave butter made with a blend of hydrating coconut, soothing lavender, and elasticity-restoring passion fruit for a gentle razor glide and a soft to the touch shave.
Smooth Legend Pre-Shave Scrub
Every good shave starts with exfoliation -- and our Smooth Legend Scrub.
This airy, sugary scrub buffs away dead skin cells, loosens hair follicles, and lathers away pore-clogging products to reveal bright, smooth & glowing skin. 
Pimple Power Pack
Limited edition PowerPuff Girl acne patches, super-charged with hydrocolloid to drain zits of gunk, protect from pesky picking, and treat active blemishes. Take your pick of Bubbles, Blossom, or Buttercup patches for speedy overnight healing!
GLOAT Big Juicy Lip Oil
Perhaps it's the cold, dry weather but this soothing lip oil is flying off the shelves rn.
Made with coconut oil and hyaluronic acid, this daily lip oil soothes, conditions, and moisturizes for the luscious lips of your dreams. Plus, it doubles up as an ultra-nourishing lip gloss. 
This lip product is a must have for diminishing dry lips this winter. And it looks great over lipstick for a touch of glossiness!
Super Flower Shampoo and Conditioner
We do haircare -- clean, smart, and using only the best performing products available. CBD and provitamin B5 work in tandem to promote healthy hair regrowth in this powerful shampoo + conditioner kit. Thickening, restoring, and color-safe, make these your in-shower best buddies for your best hair ever.
At Truly, we offer a range of clean beauty products such as cleansers, lotions, serums, face masks, and more designed both for your face, body, and hair. And they are gentle enough to be tolerated by all skin types.
You'll find our fill range of products on Truly's official website, as well as at your local Sephora and on Ulta and Amazon. Happy shopping Truly babes!
Share
---