Why is My Hair Static?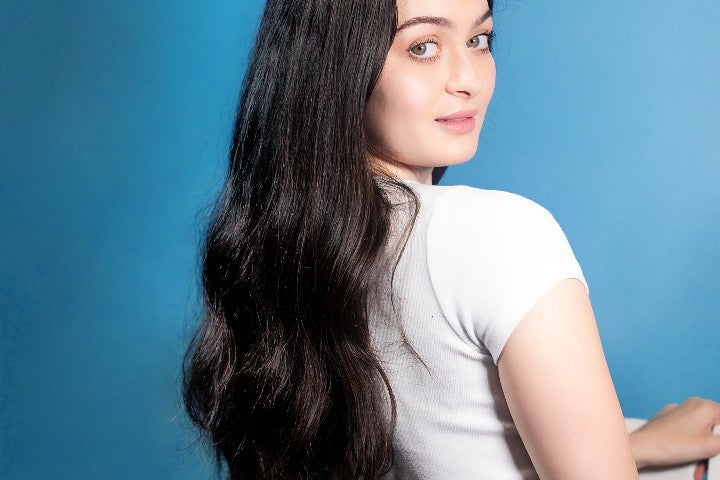 Static hair always seems to happen when you have a special event coming up where you want your mane looking its best, right? Instead of smooth and silky strands, you end up with a frizzy, static mess that you just can't seem to quell.
Ever wondered what causes static hair, and what you can do to get rid of it? Ahead, reasons why your hair is static and the best treatments to get your hair back to its smoothest, silkiest form.
WHAT CAUSES STATIC HAIR?
Static hair occurs when the hair builds up an electrical charge, when negatively-charged electrons fly off your hair, thanks to friction or changes in humidity. It's most common in the winter when dry air and cold temperatures leave the hair dry and prone to static. Plus, the lack of moisture in the air makes static electricity worse.
"Electric charges don't flow through water, so atmospheres without any humidity will result in much more hair static," says hairstylist Miko Branch. "Dry, damaged hair is more prone to static, as it lacks the moisture to repel electric charges."
Hats can also be responsible for hair static. Since they create friction as you take them on and off throughout the day, hats can build up static electricity and lead to static hair. Anything that rubs against the hair — from hairbrushes to towels — can cause hair to become static.
When hair becomes static, it ends up frizzy and difficult to style. No wonder we all loathe static hair!
Luckily, there are some hair care products you can use to make your hair less static and easier to manage.
HOW TO TREAT + PREVENT HAIR STATIC
Stop your strands from standing up on your head with these mane-softening tips.
#1: Use a Moisturizing Shampoo and Conditioner
Since dry hair is more prone to static, using a hydrating shampoo and conditioner every time you wash your hair can prevent frizz, flyaways, and static. Choose sulfate-free formulas that won't strip your scalp of its natural oils, and seek out natural emollients like oils and butters to restore moisture in the scalp and strands to keep hair smooth, strong, and shiny.
Product pick: Truly's Super Fruit Repair + Restore Shampoo & Conditioner
#2: Apply a Leave-in Conditioner
Leave-in conditioners infuse the strands with hydration, preventing it from breakage, dryness, and static. Simply smooth through a small amount of leave-in conditioner to rehydrate and silkify your strands. If you don't have leave-in conditioner on hand, try using lotion instead.
When choosing hair products, always look out for formulas made with nourishing ingredients like jojoba oil, argan oil, shea butter, and coconut oil.
#3: Smooth Strands with Argan Oil
Hair oils are excellent for taming frizzy strands and flyaways. One of the best hair oils to look out for is argan oil, a nutrient-rich natural oil that strengthens, smooths, and adds shine. The moisture in this oil will eliminate the electric charge that causes static, allowing your hair to become manageable again.
Product pick: Truly's Rainbow in Mirror's Split End Treatment
#4: Wet Your Hair
A super quick fix for static hair is to put some water on your fingers and smooth them over your hair. This will restore the positive charge and negative charge balance in your hair. Since electric charges don't flow through water, a spritz of water can work wonders for laying down any pesky hairs. 
#5: Run a Dryer Sheet Through Your Strands
"I always tell my clients to keep a dryer sheet handy, as rubbing your hair with it will eliminate static and immediately tame those pesky flyaway strands," says celebrity hairstylist Andrew Fitzsimons.
Dryer sheets are loaded with electron-neutralizing ingredients that eliminate staticky hair.
#6: Swap Your Hairbrush
Are you currently using a plastic comb or hairbrush to style and detangle your strands? Time to switch to a metal comb or brush with natural bristles to prevent your hair from getting static.
Brushing causes friction between your mane and the bristles, generating static electricity and triggering frizzy hair. Plastic brushes create more of this electricity, which is why you should swap out your regular plastic brush for one with natural bristles.
When brushing your hair, remember to use gentle strokes, as aggressive brushing can worsen hair static.
#7: Apply a Weekly Deep Conditioning Treatment
According to celebrity hairstylist Enzo Angileri, keeping hair hydrated is the secret to never getting static hair again.
"It's important that you don't let your hair become too dry. If you keep your hair moisturized, you'll never see or have static," says Angileri. "The key to keeping hair moisturized is using products that include avocado oil."
Include a deep conditioning treatment in your weekly hair care routine to keep your locks nourished and hydrated. In addition to preventing static hair, it'll also combat damage caused by heat styling (especially if you're using your blow dryer without applying heat protectant spray first!). An intense mask can smooth down the cuticle and keep your mane healthy and manageable.
#8: Upgrade Your Pillowcase
All hair types can benefit from switching to a satin or silk pillowcase. Because satin and silk are softer materials than cotton, they don't cause as much friction between you and the pillowcase, thus preventing sleep creases and morning hair frizz and static. Plus, satin pillowcases feel way more luxurious than cotton, so if you wanna sleep feeling like a queen, dress your pillowcase in satin or silk.
Product pick: Truly's Satin Sleep Set
Static hair is definitely a bummer. Especially if you have a hairstyle in mind that just won't go your way now that your strands are standing up on top of your head. Darn! Luckily, there are some quick tricks you can try for treating and preventing hair static. In addition to the ones mentioned above, you could also invest in an Ionic hair dryer if static hair is a constant concern for you. Ionic hair dryers send out positively-charged ions, which neutralize static electricity and eliminate static hair.
Share
---