Beauty Moves to Fix a Bad Mood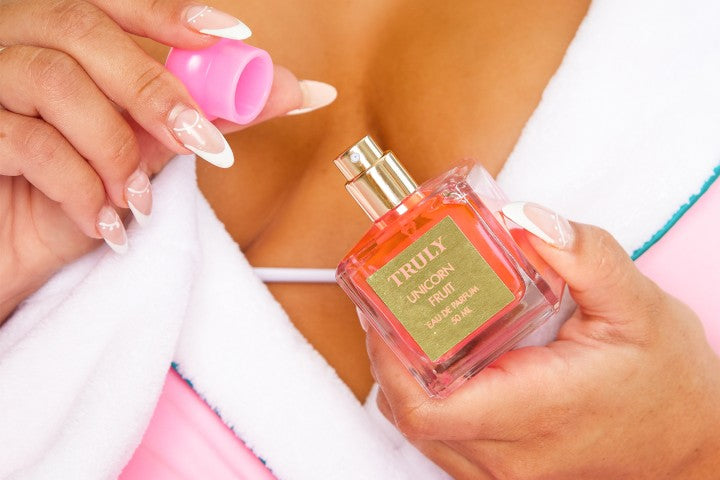 Not much of a cheerful chick these days? We get you, we really do. With all that's been going on the last year, it hasn't exactly been easy to keep our spirits high. Almost everyone is looking for a pick-me-up right now.
Turns out, you might be able to banish that bad mood of yours with a few beauty moves. 
Research shows that negative thoughts can be driven out with a little extra focus on self-care. Sometimes even something as simple as a daily skincare routine can help replace negative feelings with positive ones. 
The simple act of caring for your skin provides an opportunity for mindfulness. Mindfulness is involves focusing on the present moment and pushing out negative emotions that trickle through for clarity of mind. It can significantly improve your physical health, mental health, and overall wellness. 
Here, we show you how to turn a bad day into a good one with these serotonin-pumping beauty moves.
Spritz Adaptogen Spray in Your Shower
Adaptogens are a class of nontoxic plants that improve the health of your adrenal system to help strengthen your body's response to stress and its ability to cope with anxiety.
"Adaptogens work to relieve stress by restoring balance back to the areas of the body that are out of balance – for example, when your body's main stress hormone cortisol is too high or too low, you'll feel stressed, fatigued and inflamed," says Will Cole, a functional medicine practitioner.
Try Truly's Moon Shower Adaptogen Spa Mist for a whole new level of chill. Formulated with adaptogenic herbs such as Ashwagandha and soothing ingredients like eucalyptus oil, it's pretty much positivity in a bottle. 
Make Moisturizing a Ritual
There's just something so relaxing and enjoyable about slathering your skin in lotion after a nice hot shower. It feels so good! 
Besides feeling great, there's a direct correlation between your skincare routine and your mood. Taking time to look after yourself and pamper your skin affects both your mind and body, boosting skin health, confidence, and self-esteem. That sense of routine and control over what you do and how you feel gives you a wonderful dopamine boost, instantly improving your bad mood.
Truly's Unicorn Fruit Body Butter promises to firm, smooth, and plump while leaving you cotton candy-scented all over.
Give Yourself a Natural Glow
You know that phrase, "fake it till you make it"? Well you can kind of do the same thing with beauty and mind. Make yourself glow on the outside, and you'll feel glowing on the inside. Those endorphins will be pumping!
"When you're overwhelmed, your body restricts blood flow to the skin, making it appear washed out and blah," says Richard Fried, M.D., Ph.D., a dermatologist and psychologist in Yardley, Pennsylvania. He recommends going in with a gentle face scrub to slough away dead, dry cells. 
"You'll look radiant and feel like a million bucks, which can improve your mood and decrease anxiety," he says. 
Truly's Matcha Scrub is a quick fix for sad skin -- and blue moods.
Swipe on a Tasty Lip Gloss
Looking for a super quick, super easy mood boost? Swipe on a flavored lip gloss. The flavor and look of glossy lips will instantly make you feel more positive. See, the body responds to taste, so going in with your fave flavor can work wonders for your mood.
We love our GLOAT Big Juicy Lip Oil. It's made with coconut oil and hyaluronic acid to prep, hydrate, and juice up your lips. Plus, it smells super coconut-y and tropical. 'Cos who doesn't want to feel like they're chilling on a beach in the Bahamas?
Tend to Your Tresses
Who doesn't love the feel of super soft, silky strands? If you've been neglecting them lately, show them some love by slathering your hair in a nourishing, repairing hair mask. Positive effects include making your hair look and feel better while boosting your mood. 
Make time for a hair mask 1-2 times a week to get in touch with yourself and enjoy some self-pampering.
Truly's Unicorn Hair Repair Mask blends coconut oil with banana and keratin amino acids to strengthen your strands and smooth split ends for super silky, bouncy hair.
Banish Breakouts
A lot of psychiatry issues revolve around the skin. For some people, acne can be a real stress on their mental wellbeing. If you want to get rid of your breakouts for an instant mood buzz, use a pimple patch to zap them away.
Try Truly's Super Heart Patches. They're cute, pink, and pretty badass. Any time a pimple pops up, stick one of these babies over it and watch it disappear within 2-3 days. 
Ignite Your Senses
... with a spritz of floral-y perfume.
Look to scents like citrus and vanilla which are guaranteed to boost your oxytocin and serotonin levels for a brighter, sunnier mood. Plus, soothing scents are said to come with multiple health benefits like lowering blood pressure.
Truly's Unicorn Fruit Eau De Parfum is a fruity and feminine base of vanilla, candy floss, and sandalwood with top notes of citrus, white floral, and black currant for a deliciously sweet, mood-lifting scent.
Beauty Binge!
Everyone knows that shopping cures all. So when you're feeling a little blue, you know what you have to do: go shopping. Treat yourself to a pretty new makeup bag, luxe lotion, or hair mask. Anything that makes you feel good!
If you know a loved one who's also not feeling her or his best, treat them to something nice too! Giving feels as good (and often better!) than getting. 
Beauty really can make a huge difference to your mood. While these are some quick tricks for boosting your spirits, we recommend making skincare in general a part of your daily regimen to give your life structure and regular doses of self-care. Consistency really is key here!
Self-care is essential for maintaining your mental health. It makes you look good, smell good, and most importantly, FEEL GOOD! 
Share
---